Click Here to view or hide our Specials Menu
Breakfast Special
Special: Crunch Wrap: sausage, egg & cheese: .Power Breakfast Sandwich: egg whites, spinach, avocado, cheddar cheese served on Arnold Select: $3.95
Breakfast Specials: Peppers & Eggs or spinach & Eggs
California Breakfast Sandwich: Spinach, tomato, scrambled eggs, avocado, cheese, onions with pesto…$3.95
RoSo's Café & Catering
315 735-7676 fax 315 735-7677
Check us out on Facebook….or our website www.rososcafe.com
Lunch Specials 9/24 9/28
Breakfast Specials…breakfast Burrito, eggs, peppers, onions & ham $3.25
California Breakfast Sandwich..onions, spinach, tomatoes, eggs, cheddar cheese, pesto & avocado served on focaccia or Breakfast Burrito $3.95
All specials served with your choice of RoSo's Sweet potato Salad, Pasta Salad, Potato Chips, fresh Beet Salad, RoSo's Slaw, Pasta, Bean Salad, Loaded Potato, Mac Salad, Fries & More Add Sweet Potato Fries & Fried Pickles .75 extra
Chocolate Chip Cookies, Pistachio Cookies, Mint Chocolate Chip,
Reese Peanut Butter Cup, Oatmeal Raisins, White Chocolate Raspberry Scones
Monday…Soup…Greens & Beans
Special…Turkey Salad Wraps…chunks of roasted breast of turkey, craisins, celery, carrots, asaigo cheese, mayonnaise wrapped up
Tuesday Soup…Veggie Beef
Special …Bruschetta Stuffed Portabella Sandwich…portabella stuffed with bruschetta topped with mozzarella served on a grilled roll
Wednesday Soup…White Bean Chicken Chili
Special…Quinoa Black Bean Burger…quinoa, black beans, corn, red peppers & onions, spinach served with Chipotle aioli
Thursday Soup…Italian Kitchen
Special …Grilled Reuben…tender slices of corned beef topped with seasoned sauerkraut, Swiss cheese, Russian dressing served on grilled rye
Friday Soup…New England Clam Chowder
Special…Thracian Chicken Gyro…season chicken topped w/tzatziki sauce, feta, onions, romaine, tomatoes wrapped up in a pita
FRIDAY…BOGO Breakfast Special…buy a Breakfast Sandwich & a Drink…get a
Breakfast Sandwich FREE! 8-10 am
\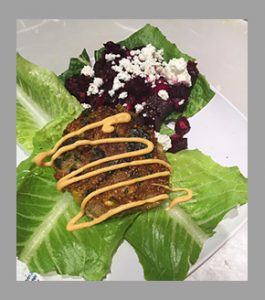 Where food is made fresh every day.
> Download Our Lunch Menu (PDF)

Breakfast Menu
Eggs:
> 1 egg: $2.39
> 2 eggs: $3.39
> 3 eggs: $3.99
> Side of bacon, sausage or ham: $2.29 
Your choice of toast: White, Wheat, Rye, Marble or Pumpernickel
 Bagels:
> Bagel or Toast: $1.30
> With cream cheese: $1.85
> Peanut butter: $1.85
> Jelly: $1.85
> English muffin: $1.30
Bagel Grove bagels: Sesame Seed, Plain, Onion, Garlic, Everything, Cinnamon Raisin
 Breakfast Sandwiches:
> Egg, cheese, choice of bacon, sausage or ham: $2.95
> Spinach and roasted peppers: $2.95
> RoSo's greens, egg, cheese and ham: $3.25
> Adirondack Meat Lover: 2 eggs, ham, bacon, sausage & cheese: $5.25
Additional meat, sausage, ham or bacon: $2.00
Omelett:
> Cheese: $4.25
> Veggie: $5.49
> Spinach or Feta & Spinach: $6.49
> Tomato & Feta: $6.49
> Ham & Cheese: $6.49
> Combo: Ham, peppers, onions, bacon & cheese: $7.50
Served with complementary toast
French Toast:
> 1 slice: $3.79
> 2 slice: $4.49
---

Lunch Menu: Sandwiches  Half sandwiches: $3.95
On your choice of breads: Country White, Wheat, Marble Rye, Rye, Pumpernickel, and Assorted Wraps.
> Robert's Grilled: Boneless breast of chicken topped with roasted red peppers, basil and provolone cheese topped with balsamic aioli: $6.95
> Raspberry Chicken: Marinated boneless breast of chicken topped with crispy romaine and vidalia onion mayonnaise served on your choice of bread: $6.95
> Chicken Club: Boneless breast of chicken topped with crispy bacon, fresh tomatoes, crispy romaine and provolone cheese served on your choice of bread: $6.95
> Buffalo Chicken: Boneless breast of chicken tossed in hot wing sauce, tomatoes, hot pepper cheese, bleu cheese and mixed greens: $6.95
> RoSo's Chicken Over Greens: Boneless breast of chicken topped with RoSo's greens and melted mozzarella served on a ciabatta roll: $6.95
> Chicken Cordan Bleu: Boneless breast of chicken topped with baked Virginia ham, Swiss cheese and cranberry mustard: $6.95
> Fiesta Chicken: Marinated chicken, topped with lettuce, roasted peppers, hot pepper cheese topped w/chipotle aioli and romaine: $6.95
> Cuban Chicken Panini: Grilled chicken breast, sliced baked Virginia ham, dill pickles, Swiss cheese and chipotle mayonnaise or Russian dressing: $6.95
> Forch: Marinated grilled chicken topped with sauteed mushroom, Swiss cheese, crispy romaine with dill mayo: $6.95
> Uncle: Marniated grilled chicken, roasted peppers, Provolone cheese, crispy romaine and mushrooms drizzled with balsamic reduction: $6.95
> Totally Debbie: Spinach, Swiss cheese, red peppers, bacon drizzled with ranch dressing served on a ciabatta: $6.95
> Totally Veggie: Roasted peppers, cucumbers, Swiss cheese, red onions and tomatoes served on your choice of bread with chipotle aioli: $6.75
> Stanley Sicilian: RoSo's greens topped with salami, Provolone cheese served on a ciabatta: $6.75
> Sicilian Delight: RoSo's greens topped with tomatoes, roasted peppers, basil and mozzarella cheese: $6.75
> Ken-wich: Roasted breast of turkey, baked Virginia ham, Swiss cheese, provolone cheese, bacon, crispy romaine and mustard served on a grilled ciabatta roll: $6.95
> RoSo's Egg Salad: Chopped eggs mixed with celery, carrots & spinach and herb seasoning: $6.25
> Swiss Chalet: Baked Virginia ham, topped with melted Swiss cheese and Russian dressing served on a ciabatta: $6.50
> Turkey Club: Slices of roasted breast of turkey topped with romaine, fresh tomatoes, crispy bacon and provolone cheese served on your choice of bread: $6.95
> Turkey Asiago (panini): Roasted breast of turkey, artichoke asiago spread, sun-dried tomatoes and mixed greens: $6.75
> RoSo's Turkey Delight: roasted breast of Turkey, Swiss cheese, sliced apples, cran mayonnaise Slices of roasted breast of turkey topped: $6.75
> Bobbydice: Grilled turkey, pepperoni, Swiss, Provolone cheese, bacon, chipotle dressing served on a ciabatta: $6.95
> Aunt: Roastbeef, crispy bacon, pepper jack cheese, grilled onions, crispy romaine and chipotle ranch: $6.95
> Big Sid: Roast beef, Provolone cheese, red oniond, crispy romaine, horseradish mayo: $6.75
> Lena: Roastbeef, mozzarella, red peppers, crispy romaine and balsamic reduction: $6.75
> Fried Peppers and Eggs: Eggs scrambled with fried peppers, Parmesan cheese topped with mozzarella: $6.50
> Tuna Salad Sandwich: Albacore tuna mixed with celery and mayonnaise served on your choice of bread: $6.50
> Tuna Sicilian: Albacore tuna, sun-dried tomatoes and kalamata olives topped with spring mix: $6.75
> Grilled Tuna Melt: Albacore tuna mixed with celery, American cheese and served on your choice of bread: $6.75
> Tuna Italiano: Albacore tuna mixed with celery, provolone cheese and topped with roasted peppers served on your choice of bread: $6.75
> RoSo's Grilled Cheese & Tomato: Topped with roasted peppers: $6.50
> Grilled Cheese: $5.95
> Grilled Cheese and Tomato: $6.25
> Grilled Cheese, Tomato and Bacon: $6.75
> Grilled Cheese, Tomato, Bacon, Russian dressing: $6.75
> RoSo's Greens: $5.50
> Spinach & Herb Chicken Salad: Boneless breast of chicken, sliced celery, carrots and mixed shredded cheese, spinach and herb seasoning wrapped up in a soft tortilla: $6.50
> Spinach & Herb Chicken Salad Trisha's Way: Boneless breast of chicken, sliced celery, carrots and mixed shredded cheese, spinach and herb seasoning, with cheddar cheese grilled on wheat bread: $6.75
---
On The Lighter Side

Served on 100 calorie Arnold select
> Turkey 500: Roasted breast of turkey topped with crispy romaine, fresh tomatoes and provolone cheese: $6.95
> Peppers and Eggs: Eggs and peppers topped with provolone cheese: $6.95
> Tuna 500: Albacore Tuna topped with crispy romaine and fresh tomato: $6.95
> Veggie 500: Roasted peppers, cucumbers, Swiss cheese: $6.95
---
 

Soups & Salads
Soup Sizes: (Flavors listed above under Specials)
> 8 oz. Mini: $2.35
> 12 oz. $2.70
> 16 oz. $4.15
Combos: Soup, Salad & Sandwich Combo's Includes 8 oz. Mini cup of soup
> Soup and 1/2 salad: $6.35
> Soup & 1/2 sandwich: $6.35
> 1/2 salad & 1/2 sandwich: $7.25
Salads:
> Half Salads $3.95
> Add chicken or tuna to any salad $2.00
Dressings: Ranch, Chipotle Ranch, House Balsamic, RoSo's Poppyseed, Chuncky Bleu Cheese, Thousand Island, House Greek, Caesar, Honey Mustard, Raspberry Vinaigrette, Oriental Sesame, Catalina. Gluten Free Dressings: Caesar, Ranch
> RoSo's: Mixed greens tossed with fresh strawberries, mandarin oranges, cucumbers, candied walnuts and croutons served with RoSo's homemade poppy seed dressing: $6.75
> Sophia: Mixed greens topped with slices of fresh pears, feta cheese, candied walnuts and croutons: $6.75
> It's Almost Greek to Me: Crispy romaine topped with tomatoes, kalamata olives, feta cheese and croutons: $6.75
> Caesar: Crispy romaine topped with fresh tomatoes, shredded parmesan and croutons: $6.75
> Adirondack Chef: Mixed greens, topped with baked Virginia ham, roasted breast of turkey, Swiss cheese, cucumbers, kalamata olives, tomatoes, homemade croutons and slices of red onion: $6.85
> Susie's Favorite: Generous scoops of tuna, egg salad and cottage cheese served with crackers: $7.25
> Asian Sesame: Crispy romaine topped with shredded carrots, edamame, red peppers, crunchy noodles, slivered almonds, mandrian oranges and croutons served with an oriental sesame dressing: $6.75
> Beets for U: Mixed greens topped with fresh roasted beets, feta cheese, red onions, candied walnuts and croutons: $6.75
> Cran-Almond: Feta, mixed greens, dried cranberries, sliced almonds, croutons house balsamic vinaigrette: $6.75
> Santa Marie: Spinach, apple slices, egg wedges, bacon, shredded cheddar, croutons served with ranch dressing: $6.95
> Antipasto: Crispy romaine, baked virginia ham, salami, provolone, roasted peppers, banana peppers, cucumbers, red onions, croutons served with house balsamic: $7.95
> Bahama Mama: Mixed green topped with fresh pineapples, pecans, strawberries, mandarin oranges, cucumbers, pecan and croutons served with a poppyseed dressing: $6.95
> Mix-it-up: Mixed greens topped with spinach & herb chicken salad, cottage cheese, cucumbers, tomatoes and croutons served with Greek dressing: $7.95
> Southwestern: Crispy romaine topped with corn, black beans, shredded cheddar, tomatoes, red onions served with chipotle ranch dressing: $6.75
---
Beverages
> Coffee: 16 $1.50 Med $1.80| Lg $2.00
> Juice: $1.95
> Tea: Sm $1.50  Med $1.80   Lg $2.00
> Iced Coffee: French Vanilla, Hazelnut or Chocolate Raspberry: Sm $1.95 | Lg $2.25
> Homemade Iced Tea: Sm $1.45 | Lg $1.95
> Milk: Sm $1.49 | Lg $2.49
> Chocolate Milk: $1.95

 Checkout our FaceBook Page for Latest Updates
Hours:  Monday - Friday 8-2 Serving Breakfast & Lunch    Catering 7 days a week! 315 735-7676 or 315 427-0673
RoSo's Cafe & Catering  |  All Rights Reserved, Copyright©  | 185 Genesee St, 1st Floor Pick-Up - 2nd Floor Restaurant, Utica, New York
Give us a Call: 315.735.7676     |       Free WiFi Available    |     website: mobius